If you find the different editions somewhat confusing, you're not alone. Hopefully, this will provide some clarity.
The intention for the standard IEC 62368-1 was to cover the scope of the previous standards IEC 60950-1 (IT equipment) and IEC 60065 (AV equipment).
However, already at the time of publication, it became evident that the standard had so many and significant shortcomings, that the IEC countries agreed not to use it for certification. Thus, the 1st edition of the standard has been withdrawn by IEC, and was never adopted in Europe.
IEC 62368-1:2014 (2nd edition)
The improved 2nd edition was published in 2014, and several thousand CB certificates have been issued since then. There were still shortcomings, however, particularly concerning the interpretation of some requirements. Because of this, some manufacturers have chosen to wait for the 3rd edition that was published in 2018. In Europe the EN 62368-1:2014 will become mandatory 20 December 2020, replacing the previous standards EN 60950-1 and EN 60065.
Transitioning to hazard-based? Read more: How To Prepare Your Product for IEC 62368–1


IEC 62368-1:2018 (3rd edition)
The 3rd edition is currently the latest version of IEC 62368-1. This edition has several improvements that clarify or replace existing requirements from the previous edition. In Europe, the standard is called EN IEC 62368-1:2020. It replaces EN 62368-1:2014 on 6 January 2023.
Tip: If you're a product developer, you might be interested in our general
Guide for Product Developers: 6 Steps From Idea to Market


Comparing The 2nd And 3rd Edition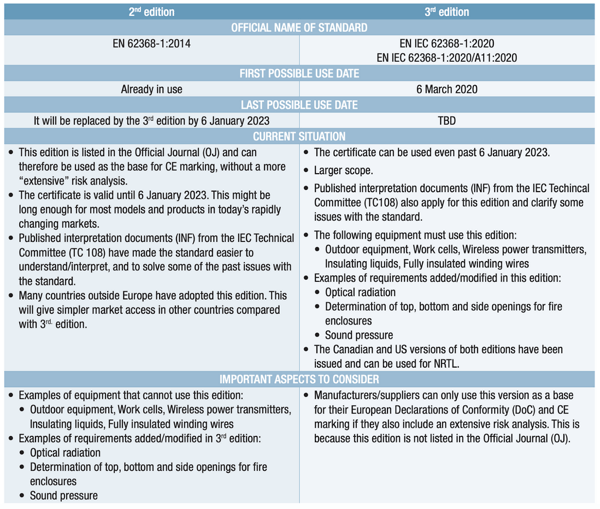 Which Version Should You Choose?
Many of the initial challenges in the 2nd edition have actually been solved with the additional interpretation documents (INF). Therefore, in terms of complexity, there is actually not much difference between the editions. Still, there are a couple of things to keep in mind.
Your choice of version should be based on several factors:
What are the main markets in which you intend to sell your product?
For how long do you intend to have the product on the market?
Does your product belong to a group that requires the use of 3rd edition?
The best way to map this out, will be to speak to an expert. Good luck, and don't hesitate to reach out to one of our consultants.
Interested in product development? Check out our Guide for Product Developers: 6 steps From Idea to Market.

Ole Morten Aaslund is responsible for projects with the safety laboratory in Norway. He has extensive experience within the ICT/AV-areas, and has been with Nemko, in the Norway office, since 1996. He has been organising and hosting Hazard-Based workshops and developing GAP analysis for some of the world's largest ICT/AV brands since 2017 with great track-record.